Dry Ice
Dry ice is the name sometimes applied to compressed carbon dioxide snow i.e. solid carbon dioxide with a temperature of -79°c. Under normal condition carbon dioxide is a colorless and odorless gas with a density about 1 ½ times as high as that of air. Like water, it can occur in the gaseous, liquid or solid state, depending on the physical conditions. In addition carbon dioxide possesses the property of sublimation i.e. it can pass directly from the solid to the gaseous state without becoming liquid.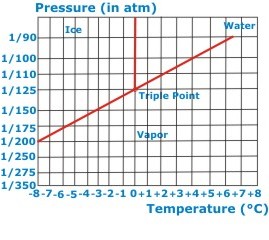 Under which conditions of pressure and temperature a particular state occurs is indicated by the vapor pressure curve (fig 1 and 2). In accordance with the lines in the vapor pressure diagram, the transition from one state to the other, in conjunction with absorption of release of heat. Of particular interest is the so called triple point, where all the three states - gaseous, liquid, and solid - can co-exist simultaneously. For example, the triple point for water is located at a pressure of 4.6 mm mercury column and 0.001°c. On the other hand, for CO2 this point is located at 5.1 atm and -56.2°C. The vapor pressure curve indicates the relationship between the boiling point of a substance and the pressure. Thus, water (fig 1) boils at 0°C at a pressure of 60 atm.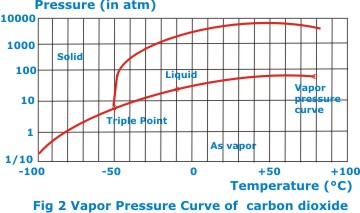 To make carbon dioxide snow, carbon dioxide is cooled at high pressure and liquefies in consequences. Further cooling takes the carbon dioxide to the triple point. Now the compressed liquid carbon dioxide is suddenly expanded by spraying and turns into snow. This happens because the evaporation of part of the liquid causes intensive cooling of the rest. The dividing line between liquid causes intensive cooling of the rest. The dividing line between liquid and solid in fig 2 is crossed: the carbon dioxide turns from liquid to solid.
To achieve this result, the carbon dioxide gas is liquefied by means of three or four stage compressors with intermediate and final cooling, the liquid carbon dioxide then being expanded in a tower. About one third of the liquid Is thereby transformed into snow; the other tow thirds turn in gas, which is removed by suction, recompressed and returned to the process. The snow is pressed into blocks weighting 50-250 lb.
o DISCLAIMER
o CONTACT US