Foam Plastics
One of the basic features of foam-type materials is the structural configuration of the cells. Absorbent cotton (cotton wool), felt and glass wool, for example, do not belong to this category of materials; sponges and cork, on the other hand, do. A difference can be made between true and false foams. In true foam the individual cells are not mere relatively thick-walled cavities or pores, but are separated only by thin partitions and are interdependent for their stability (Fig.1).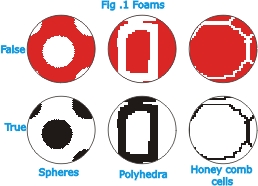 The mechanical strength is the highest in the case of foams with closed (nonintercommunicating) cells. Since no convection is possible in such materials, they possess good thermal insulating capacity. With open (intercommunicating) cells the mechanical strength and thermal insulation are lower; while, these materials have a high sound-absorbing capacity and are therefore good acoustic insulators.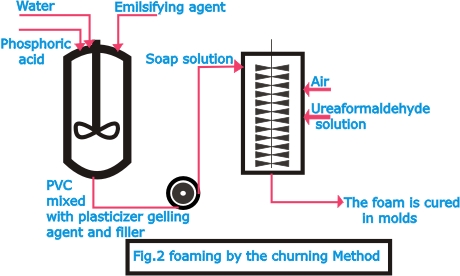 Artificial foam materials, including more particularly foam plastics, can be manufactured by three different methods: by churning (Fig.2), by expansion with chemical agents (Fig.4) and by physical methods (Fig.3). The initial materials that can suitably be processed into foams include polyvinyl chloride (PVC), polystyrene, urea and formaldehyde condensation products, and natural synthetic rubber. In the churning process of producing foam rubber, latex to which fillers, vulcanization accelerators and foaming agents i.e. surface-active substances have been added is stirred with air to form foam, which sets and is then vulcanized with hot air (Dunlop process).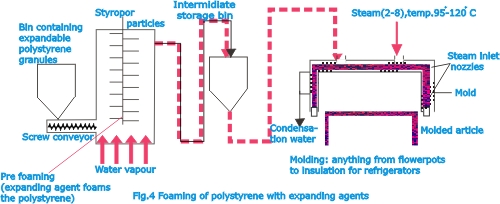 Urea-formaldehyde foams are made by foaming a soap solution with an incompletely condensed water-soluble resin resolution and air in an impeller-type high-speed mixer. Further condensation is brought about by the addition of acid. In the process based on physical methods, the foaming (expanding) action is produced by gases such as nitrogen, carbon dioxide, or pentane. Gas dissolved in the material under pressure is liberated from the solution and thus forms bubbles in the material when the pressure is reduced; this is the foaming action.
For example, PVC pastes are processed with carbon dioxide at a pressure of about 20 atm. (300 lb. /in 2) and a temperature between –5oC and 0oC. The fluid mass is passed into the heating zone of the installation. Here the dissolved CO2 escapes and thus foams the material. The foam sets at a temperature of 150 oC and is solidified by cooling. Polystyrene is foamed with pentane, which is added at the polymerization stage e.g., in the manufacture of styropor.
Chemical foaming methods are based on the fact that certain substances will, on being heated, decompose and liberate gas, which forms small bubbles i.e. foam cells. Azo compounds, N-nitroso compounds and azides are employed as foaming agents. What all these compounds have in common is that they liberate nitrogen when they decompose. For the manufacture of polyurethane foam plastics e.g., the German product named Moltopren, compounds containing hydroxyl groups of high molecular weight are mixed with disocyanates and water.
The foam plastic is formed according to the equation
HO.R1.OH + OCN.R2.NCO ->… CO2.R1CO2.NH.R2NH.CO2.R1.CO2…
Surplus isocyanate groups react with the added water and CO2 is evolved, which acts as a foaming agent: R-NCO + H2O -> R-NH2 +CO2 Isocyanate amine
The reaction mixture is cast in molds in which both the foaming and the hardening process take place. Blocks of foam are cut up into slabs or sheets by cutting machines.
In the building industry foam plastics have achieved importance as heat and sound insulating materials. They are also used for a number of other purposes e.g., as paddings, packing materials, materials for the manufacture of sponges and bath mats.
o DISCLAIMER
o CONTACT US